Chimera: Queering the Myth of the One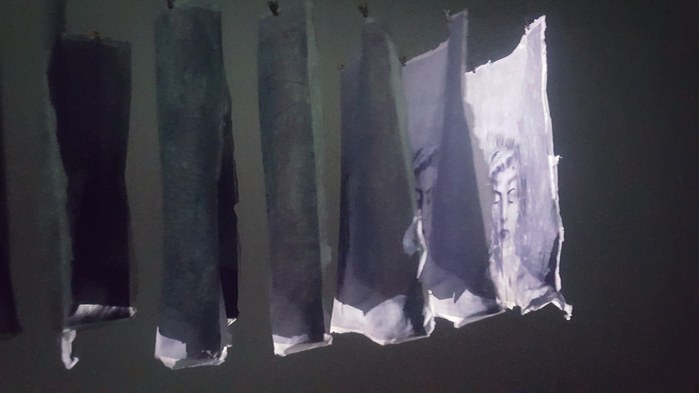 Figure 1.
Breathe, 2019
Single frame from the film/installation
OCAD University
Breathe is a looping 3 second film/animation of myself breathing in whilst looking up then breathing out and closing my eyes. The material research and use of my body within this project propelled my research forward. To begin this process, I filmed myself with a digital camera at 10 frames per second, these frames were then printed on paper scaled to be my exact proportions. I utilized matte medium to transfer the ink from the paper to the medium itself, resulting in semi-transparent delicate skin-like images. These frames were scanned into the computer and strung together back into a time-based looping film. I hung each of these frames in a row at my height and projected the animation back onto the hanging frames. Breathe was an expansion of myself through space and time—lingering forever in this quiet moment.
Figure 2.
Pollenol Experiment, 2020
120 Medium Format Film
Mono Cliffs Provincial Park
The March 2020 Quarantine hit hard. Suddenly the trajectory I was on shifted out of sight. Lost in this bubble of disconnect, I longed for some form of intimacy which I soon found in my childhood forest. I took a series of photographs off the common paths. These photos showcased the collaboration and contamination of human and non-human worlds. I decided to develop these negatives in home-brewed developer made of pollen, vitamin c, washing soda, and water. A lovely shade of yellow stained the film, the pollen's mark lingering upon its surface.
Figure 3.
Contact-Developing, 2020
35mm Photograph
Mono Cliffs Provincial Park
During the Spring Quarantine of 2020, I became increasingly enamoured by the material possibilities of analogue film. I involved myself in new experimental developing practices such as contact developing, which, as far as I can find, is a significantly under-explored process. This roll of film, taken in my childhood forest of Mono Cliffs Provincial Park, was developed by draping a pollenol-soaked cloth across the film. The images turned out to have an uneven and foggy aesthetic that I found particularly compelling.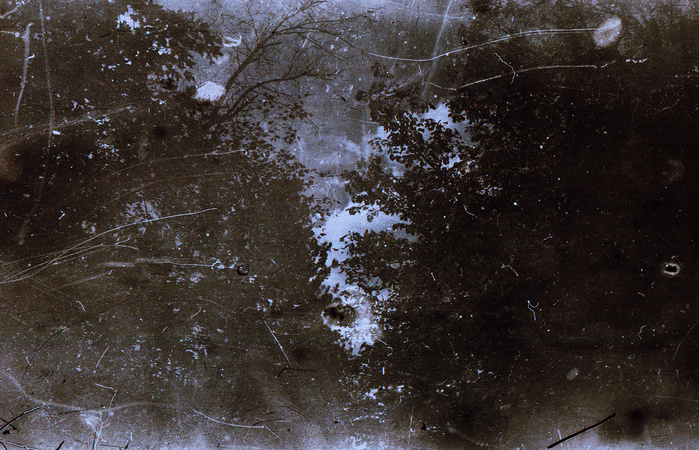 Figure 4.
Soup Experiment, 2020
35mm Photograph
Mono Cliffs Provincial Park
Amidst my studies of analogue developing practices, I stumbled across the concept of souped
negatives. This idea of soaking the negatives in a self brewed cocktail struck home to me. I ga thered
in a small jar, ingredients that held meaning to me. In this jar I placed soil and local beeswax. I added
a red chili pepper, which is an Italian folk magic symbol that protects against malocchio. I included
bay leaves, juniper berries, and cinnamon all symbols of strength, resilience, and healing. Symbols
of love and serenity, dried rose and lavender petals, were also placed in the jar. I topped these
ingredients with an Abruzzo Digestive, which is an alcohol made from the herbs in the region my
mat ernal grandparents were born and raised. After taking photos in Mono Cliffs Provincial Park,
along the paths I used to walk along as a child, I placed the film roll in the jar and filled it to the top
with boiling water. It sat in this concoction for 48 ho urs before I took it out and placed the roll by
the heater for two weeks. The roll was too sticky to process with a spool in a tank so in the
darkroom I was forced to think on my feet and bucket process the film. I am so happy with these
images. I will for ever use the bucket processing technique in place of a tank, as the scratches and
tears are incredibly engaging and provocative. The process of rubbing the pollenol developer over
each and every frame with a gloved hand was a very fun and playful step. Fee ling the chemicals
glide over the negatives in complete darkness was a very intimate experience in comparison to the
mechanical shaking of the developing tank I was previously utilizing.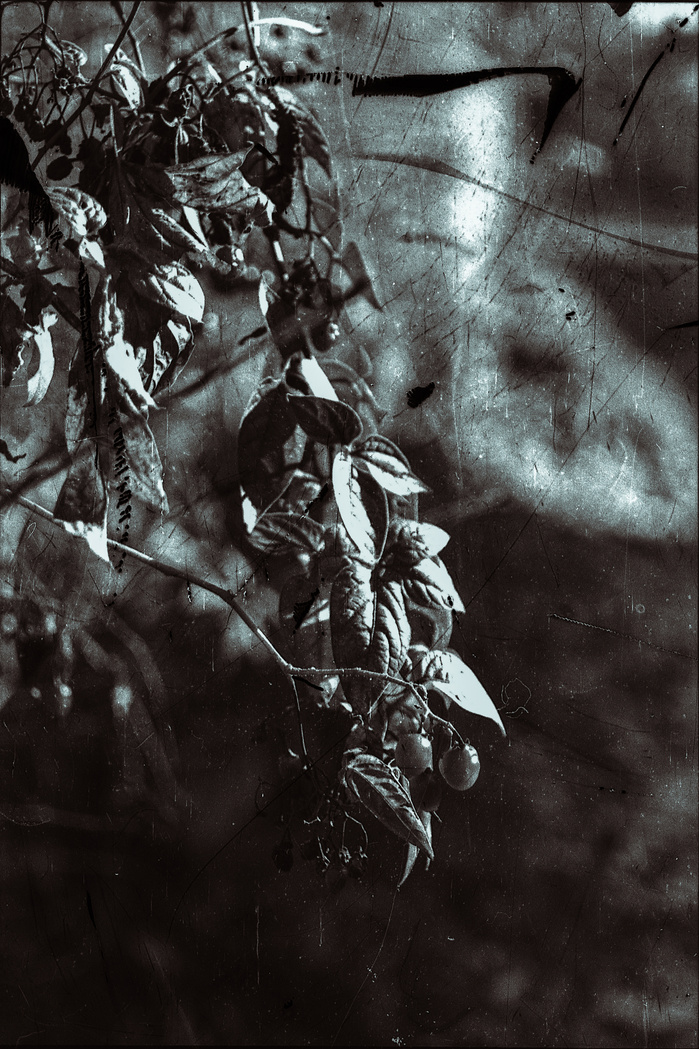 Figure 5.
Bucket-Process Experiment, 2020
35mm Photograph
Toronto, ON
Having been forced into bucket-processing in my previous darkroom experience, I decided to intentionally develop a film with this method. With no further contamination to this roll but my hands and developer in the bucket, these images turned out crisp, clear, and covered with small hairline scratches. I used ice water as my wash bath, resulting in subtle reticulation of the chemicals on the film. This series of photographs depicted the rot and decay of the city and the auto-rewilding of urban spaces.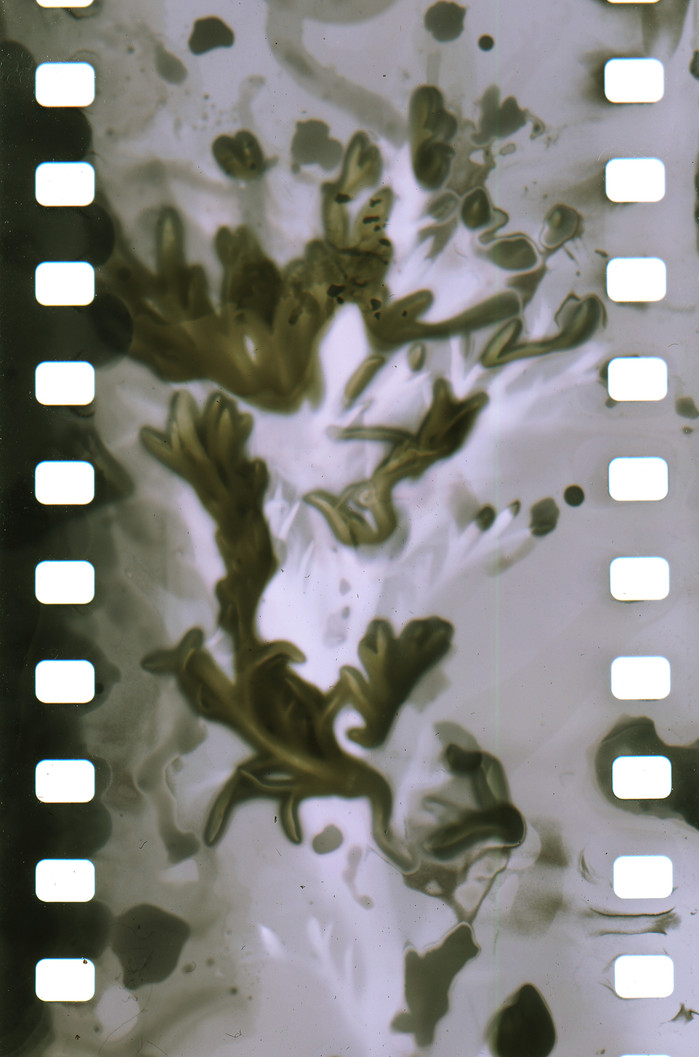 Figure 6.
Phytogram Experiment #1, 2020
Phytogram
Red Clover Flower
After experimenting with 35mm photography, I began to question other processes that could develop film. Phytograms became the next step in my material research. I foraged for plants and flowers along the Cook's Bay shoreline then saturated them in a developing concoction of water, vitamin c, and washing soda. Through photosynthesis, the plants painted themselves onto the film.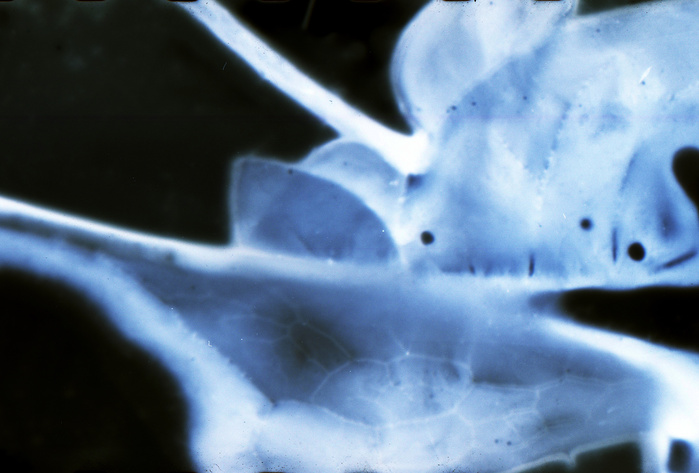 Figure 7.
Phytogram Experiment #2, 2020
Phytogram Portrait
Self-Portrait in Dandelion Leaf
I desired to hybridize the phytogram further. On this roll of film, I took a series of self-portrait photographs of body parts or odd angles of my face. Rather than developing them in a dark room, I strapped the film to a piece of wood and placed the saturated plants on the negatives in the dark. I then moved this outside for a couple minutes before returning it to the darkness, removing the plants, washing and fixing the film. This film embodies the nature of the chimera and contamination as collaboration.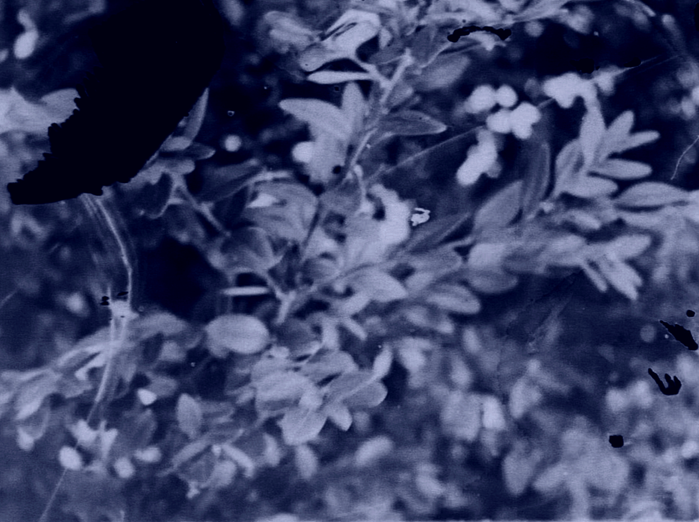 Figure 8.
Unedited Frame, 2020
16mm sound stock
Mono Cliffs Provincial Park
In September 2020, my sister and I travelled to Mono Cliffs Provincial Park. With a Bolex hand-crank camera, I filmed my surroundings. This film was spontaneous, unorganized, and completely intuitive. After the success of my previous bucket-processing tests, I decided to develop this 100ft film in a large bucket in the darkness of my basement. The results of this process were uneven and inconsistent. It was both physically and emotionally demanding, causing my body to drift into the haze of my chronic pain.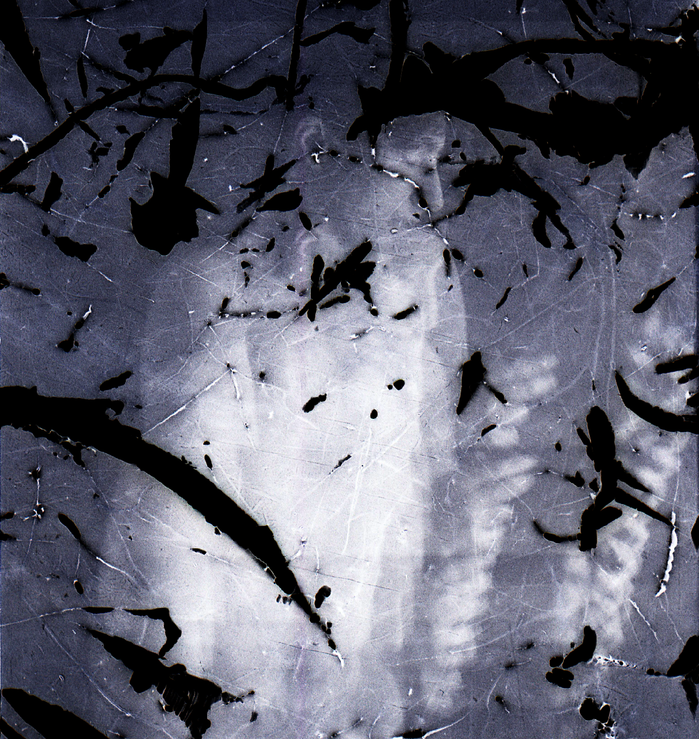 Figure 9.
Unedited Frame, 2021
35mm motion picture film
Gilford, ON
So enamoured by the 35mm tests I have conducted, I decided to experiment with a 1920 Devry Lunchbox style camera, which would allow me to shoot on 35mm motion picture film. With my sister operating the camera, I filmed a series of my body both in motion and standing still. Every angle was framed so as to mask my identity and gender. The Lunchbox camera was faulty, resulting in frames that were double or triple exposed to the same movement. This ghostly effect was further enforced during the developing stage of this film. The emulsion did not react well to the pollenol that I used, causing large parts of the image to flake off the acetate, further concealing my identity. Every aspect of this film embodies the chimera. These images are true archives of their own history of creation.